Mailing Bags

Mailing bags come in a wide variety of styles, shapes and sizes and can be made from a wide variety of materials that include paper, plastic, vinyl and canvas, as well as others. They are designed according to the different types of products that need to be posted. Mailing bags have many functions that also go above and beyond just safely transporting your package. These additional functions range from protection of the product from weather or punctures to getting out a sales and promotional message. Plastic, or polythene mailing bags are becoming quite a popular choice in today's business world as well as a popular mailing bag choice for personal mailing needs as well. This is due to the wide variety of choices on the market today in the types of available polythene mailing bags with a wide range of sizes and colours. Their additional features also appeal to many different customers for a wide range of uses, both business and personal.
There are so many choices for polythene mailers available on the market today that you should be able to find the right product to meet your particular needs. Plastic mail order bags can be clear or coloured and come in a wide range of sizes from smaller than an envelope to quite large. They can also be high or low density polythene, flat, ziplock or zipper mail bags, gusseted, reinforced and cushioned. Some are also made with laminated paper.
Confused over Royal Mail's new postage costs?
New criteria introduced by the Royal Mail in April 2013 has lead to some confusion over the cost of posting parcels. Previously, parcels were classified on the basis of weight only. Since April 2013, parcels are both measured and weighed before being classified.
All parcels to be posted are classified as either small, medium or large - based on both their weight and dimensions - and the cost of postage calculated accordingly.
Previously, any parcel weighing up to 2kg cost no more than £5.30 to post. Now, if just one of the dimensions of the parcel is greater than 8cm, it will be classified as a medium parcel and will cost a minimum of £8 to post.
On the other hand, a small parcel weighing between 751g and 1kg now costs only £3 to post second class, whereas it used to cost at least £4.30.
Royal Mail say the new prices are more in line with the actual cost of handling and delivering items. It takes into account the fact that some larger, lighter items need to be delivered by van.
A small parcel can be no bigger than 45cm x 35cm x 8cm - around the size of a cereal box - although there are exceptions for some cube or cylindrical parcels, which may still qualify as small under the new system.
The following guide should help you calculate your postage and avoid unexpected delivery costs.
Royal Mail size and weight allowances for UK post
| | | | | | |
| --- | --- | --- | --- | --- | --- |
| Format | Max. length | Max. width | Max. thickness | Max. weight | Examples |
| Letter | 24cm | 16.5cm | 0.5cm | 100g | Standard letter, greeting card, postcard |
| Large Letter | 35.3cm | 25cm | 2.5cm | 750g | Small books, magazines, CDs & DVDs (in cases) |
| Small parcel | 45cm | 35cm | 8cm | 2kg | Large books, DVD boxsets, small gifts |
| Medium parcel | 61cm | 46cm | 46cm | 20kg | Clothes, large gifts, sports equipment |
Large Parcels:
Any parcel exceeding just one of the maximum allowed limits for a medium parcel will be considered a large parcel.
Exceptions:
There are some exceptions to this size guide, including parcels measuring up to and including 16cm x 16cm x 16cm or cylindrical parcels measuring up to and including 45cm (length) x 8cm (diameter), both of which will be classified as a small parcel. For further details, visit royalmail.com/prices-2013.
Royal Mail postage costs for UK parcels
Royal Mail 1st Class

Royal Mail 2nd Class

Small Parcels

Medium Parcels

Small Parcels

Medium Parcels

up to 1kg

£3.00

£5.65

£2.60

£5.20

up to 2kg

£6.85

£8.90

£5.60

£8.00

up to 5kg

-

£15.10

-

£13.35

up to 10kg

-

£21.25

-

£19.65

up to 15kg

-

£32.40

-

£27.70

up to 20kg

-

£32.40

-

£27.70

Inclusive compensation

£20.00

£20.00

£20.00

£20.00
Other services:
The above table lists standard Royal Mail services for UK postage only. Other services are also available, including Confirmed, Guaranteed and International Standard and Confirmed. For further details, visit royalmail.com/prices-2013.
Large parcels:
Any large parcel (see table: 'Royal Mail size and weight allowances for UK post') cannot be sent via standard Royal Mail services but will require a courier service, such as Royal Mail partner Parcelforce Worldwide. These services will, as standard, incur a greater cost than regular post, but they provide tracking and can guarantee delivery by a particular time.
Exceptions:
Some parcels, including those measuring up to and including 16cm x 16cm x 16cm or cylindrical parcels measuring up to and including 45cm (length) x 8cm (diameter), will be classified as small parcels. For further details, visit royalmail.com/prices-2013.
Post it!

Polybags has loads of options for mailing bags in a range that includes lightweight polythene mailers, Mailtuf for heavy duty mailing, Mailbudget for economic 'Peal n' Seal' style envelopes and opaque Tamper Evident mailers to protect the contents and ensure it is only opened by the right person.
As featured on Polybags.co.uk the glossy blue mailorder bag is a top selling strong lightweight bag available in a range of popular sizes which is great for internet or mail order businesses.
Clear plastic mail bags
Clear plastic mail bags work great for sending magazines, brochures, newsletters or any other type of mailing in which it may be to your advantage to use clear packaging. Usually these clear plastic mailers are highly tamper resistant and come with a self seal. You can attach address labels or you can also use their write on panels for addressing your packaging. Perhaps the type of mailing you do on a regular basis is a bit more confidential or you mail a different type of product in which clear plastic mail bags will not work for you. There are so many other options available in colored plastic mailing bags for you to choose from as well that you're sure to find the right product for your needs.
Custom-printed polythene mailing bags
Along with the various types available today, they can also be pre-printed. You can have your return address or a personalized message designed on your polythene bags. This can also be a great marketing tool as you can add a company logo or slogan and promotional messages that will be highly visible as you package travels to its destination. These custom-printed polythene mailing bags can be printed in large quantities on just about any type of plastic mail order bag you may need. Plastic mailing bags can also be made to look highly professional and very attractive to your customer base, no matter what type of polythene mailer you use. Sometimes businesses also use custom printed plastic mail bags as business and corporate gifts to employees or other businesses as the message can be personalized in any fashion needed for any occasion.
Coloured mailing bags - bring your parcels to life!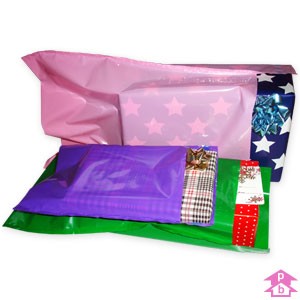 Nothing cheers you up more in the morning than when the postman delivers a lovely parcel - except when that parcel is bold, vivid and brightly coloured! You too can bring a smile to your customers' faces and make your mail stand out from the rest with Polybag's fantastic range of coloured mailing bags.
Available in a range of colours including baby pink - perfect for packaging baby presents and other gifts - and eco green - ideal for sending eco-friendly goods or home and garden products.
The classic glossy blue mailer gives your deliveries that slick, professional look, or you could choose vibrant purple to really stand out from the crowd. If you want another colour, no problem - just ask and it will be made just for you.
Life's too short to stick with shades of grey. Pick your colour, order your mailing bags and bring your parcels to life!